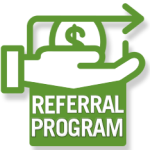 Featured post submitted by contributing author: Chris Auletta
Did you know you can make money just by referring your friends to a job at COMTEK Group? Referrals can be a preferred method for large and small employers.
According to The Undercover Recruiter, "Applicants hired from a referral begin their position quicker than applicants via job boards and career sites (after 29 days compared with 39 days via job board and 55 via career sites)." This not only saves time for all those involved, but money as well.
Recent reports, like that in the New York Times, also credit the increasing use of social media to the upward trend in hiring through referral programs. "The trend, experts say, has been amplified since the end of the recession by a tight job market and by employee networks on LinkedIn and Facebook, which can help employers find candidates more quickly and bypass reams of applications from job search sites like Monster.com."
The IT recruiting industry is highly competitive and agencies appreciate work leads that offer a guaranteed higher success rate than cold calls and resume parsing. COMTEK Group values the importance of inner circle networking and how it can greatly influence a client's decision in the hiring process.
"The best candidates are those who are not necessarily looking," suggests Chris Auletta, Managing Partner at COMTEK Group. "It's up to us to find those special combination of skill sets that our clients are constantly seeking, or the "purple squirrels" as so often referred to in the recruiting world." That is why COMTEK Group offers a fantastic referral prog for just for you.
How it works: COMTEK Group wants to directly incentivize you and the process is simple. Send the contact information of the person you would like us to introduce our services too. That's it. One of our recruiters will reach out to him or her and see if they are a fit for one of our positions. After the person is hired, COMTEK Group will pay you a referral based on the type of employment. If the person qualifies and accepts either a permanent or contract position with one of our clients, COMTEK Group will pay you cash for your referral. So what are you waiting for! Get in touch with COMTEK Group today and email us at Info@Comtek-Group.com.